Meet Dr. Lynette Berven
Carrying on a Family Tradition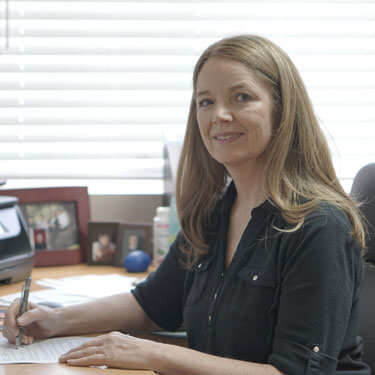 D.D. Palmer founded the profession of chiropractic back in 1895. Dr. Berven's grandmother was on the cusp of this revolution in health care, attending Universal Chiropractic College in Davenport, Iowa and graduating in 1918.
As a result, Dr. Berven grew up with chiropractic, and the choice to make it her profession felt natural. "I was always interested in health and knew it didn't come from drugs and surgery." Her grandmother was proof of that, having lived to age 100 and having practiced for 55 years, with the credit for her longevity going to regular chiropractic checkups.
Gaining a Thorough Education in Natural Health
Continuing the family legacy, Dr. Berven attended Western States Chiropractic College in Portland, Oregon. She graduated in 1984 with a Doctor of Chiropractic and well-rounded skills thanks to the school's rigorous curriculum. When it was time to start practicing, Dr. Berven applied for an open position in Australia and ended up working there for three years. She and her husband returned to the U.S., first moving to Vancouver, Washington and then to Tampa in 1996.
To complement her chiropractic education, Dr. Berven has earned a Diplomate in Addictionology and is a Certified Posture Neurologist, which combined posture, addiction and elements of brain chemistry. She is a member of the Florida Chiropractic Association.
CHIROPRACTIC CARE »

Outside of the Office
Furthering her knowledge to benefit her patients is important to Dr. Berven. She spends much of her spare time researching and continuing her education. She enjoys working out at the local Orangetheory Fitness, volunteers through her church, goes on hikes and travels to the northwest to ski with her family.
If you're wondering what we may be able to do for you, contact Berven Chiropractic today! We're pleased to offer complimentary consultations.

Dr Lynette Berven | (813) 968-3500